New Version of Popular U.S. Attraction Debuts in China with Thrilling Bird's-Eye Views Of Earth's Scenic Wonders
ANAHEIM, Calif. – Imagine a wind-through-hair flight above The Great Wall of China, a lift-your-feet-or-they'll-touch journey over the Great Pyramids of Egypt or a seat-of-your-pants dash through the Eiffel Tower in Paris.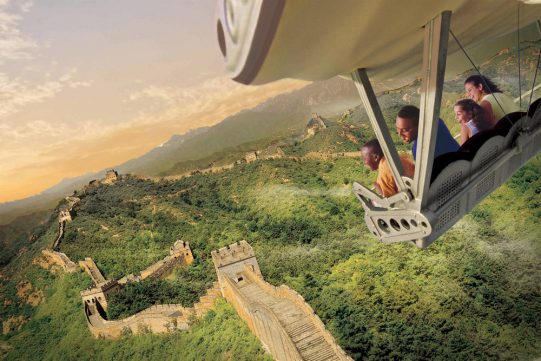 These are just a few of the more than a dozen breathtaking – and innovative – ways guests will be able to experience the wonders of the world on the groundbreaking Soarin' Around the World, which premieres June 17 at Disney California Adventure at the Disneyland Resort in Southern California, just after the attraction's world debut at the Shanghai Disney Resort.
Soarin' Around the World will be located in the Grizzly Peak Airfield area of Disney California Adventure, utilizing the very hanger where Disney's original "Soarin'" attraction first flew.
As the next generation of popular Soarin' attractions, Soarin' Around the World is an exhilarating aerial adventure that immerses guests in a multi-sensory experience, complete with stunning sights, spectacular sounds and even subtle scents.
Guests won't just see these gorgeous landscapes with their eyes. They'll use all their senses to feel, smell and hear the world through this thrilling experience that could only be created by Disney.
Employing high-definition, laser-projected footage and innovative motion-based ride technology, all developed by Walt Disney Imagineering, Soarin' Around the World lifts 87 guests at a time 40 feet aloft into an 80-foot projection screen dome. The effect is that guests' entire field of vision is filled with panoramic beauty, giving them the sensation that they are actually flying over the globe's grand landmarks, natural and manmade.
In Shanghai the attraction goes by a different name, Soaring Over the Horizon, to better fit its location in Adventure Isle at Shanghai Disneyland because of its spirit of exploration and discovery.
Soarin' Around the World is also enhanced by its majestic musical score, composed by Bruce Broughton, based on the original Soarin' score by the late film and television composer Jerry Goldsmith, and performed by the London Studio Orchestra.