Disneyland Resort's Festival of Holidays takes place between November 10, 2016 through January 8, 2017. So, there's still time to take part in this merry celebration. If you enjoy delicious food and fun, this is definitely something you must do if you plan on taking a trip to the Happiest Place on Earth.
When it comes to the Holiday Season, nothing brings back memories faster than the sight, smell and taste of food. Think to when you were a child. Remember that magical fragrance of fresh baked cookies? Think deeply now, imagine back to when you took a bite. If you're like me, it was the best sensation ever! Disneyland Resort has worked hard to bring a sense of this magic to the Disney California Adventure park through their Festival of Holidays event.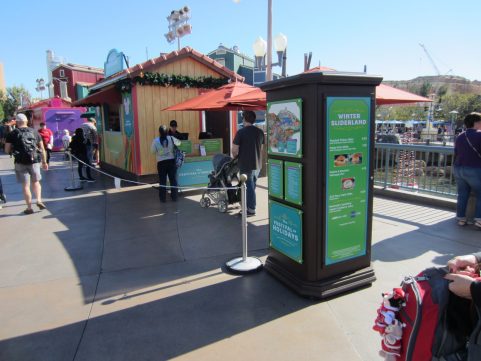 Back in April 2016, my wife and I missed out on the 2016 Food & Wine Festival at DCA due to family illnesses. It was a major bummer for us because it had been six years since that celebration last took place. So, we were bound and determined to take part in the Festival of Holidays regardless of health, weather or any other factor (just kidding, kind of). Our resolve did not go unrewarded. As foodies, we knew this was going to be an exciting adventure.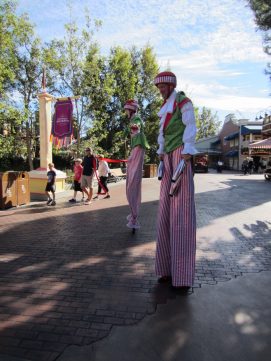 The following is a list of food and drinks my wife and I sampled while on our "staycation" in early December. While we endeavored to try everything, it was not feasible during the two days we were there. Nevertheless, we did try a variety of dishes and beverages that should give you an idea of what to expect. For a complete menu of EVERYTHING available, please visit the official Disney Parks Blog post written by Rachel Bshero: Complete Guide to Festive Eats at New Festival of Holidays in Disney California Adventure Park.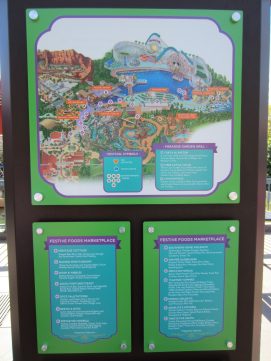 I put together a list of food my wife and I tried along with their "location" at DCA and my personal assessment of their flavor. If you do not like reading negative reviews, skip the RED colored food items and read only the GREEN reviews. The red reviews are dishes my wife and I would not recommend trying, while the green ones are "must try" items. Anything left in black lettering is up to you. Also, keep in mind that taste is subjective. What may be delicious to me may not appeal to your particular palate. Anyhow, here is the list: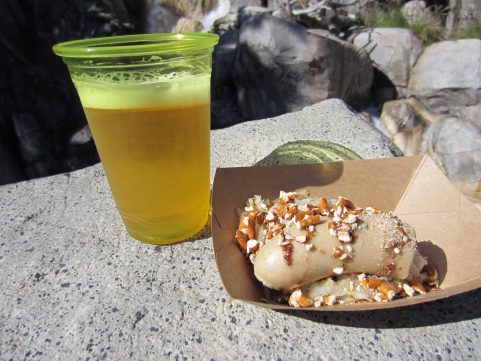 Weisswurst Sausage & Sauerkraut (Heritage Cottage)
This dish was made with what tasted like chicken apple sausage bought from Trader Joe's. It had a mellow flavor, but the casing of the sausage was really tough. The cabbage in the sauerkraut was okay, but not great. My wife and I enjoyed the textural contrast of the pretzel bits. However, they did not really add any flavor to the dish. It came with stone ground mustard as well. Honestly though, it was kind of a disappointment overall. We would not get this dish again.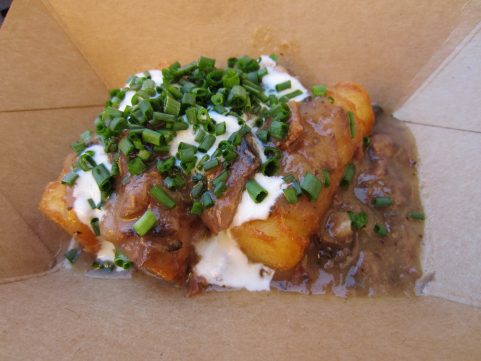 Brisket Potato Croquette (Nosh & Nibbles)
I love me some potato. When I saw this offering at the Festival of Holidays, I was excited. Unfortunately the dish did not live up to my expectation. It had a funky texture to it. Although it looked like a tater tot, it was really compressed and extruded potato that was bland. The horseradish créme lacked flavor and was a bit off-putting in all honesty. I would not recommend it.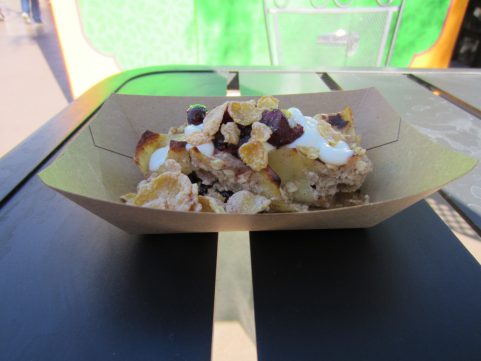 Sweet Spiced Noodle Kugel (Nosh & Nibbles)
This dish was just flat out confusing. In general, I enjoy the interplay between sweet and savory in many dishes.  But in this case, it was not executed very well. The best thing about this concoction was the Frosted Flakes® cereal sprinkled on top. Both my wife and I would suggest saving your money by skipping this one.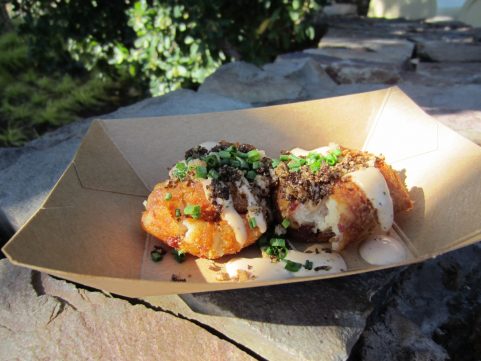 Reuben Potato Smash (Nosh & Nibbles)
As mentioned previously, I am a fan of potatoes. This was the best dish of the day for me. It had an awesome flavor. Imagine a reuben sandwich crossed with a tater tot. Crispy on the outside with meaty flecks of pastrami on the inside. These pastrami sprinkles were like bacon bits on steroids. I highly urge you to sample this delectable delight.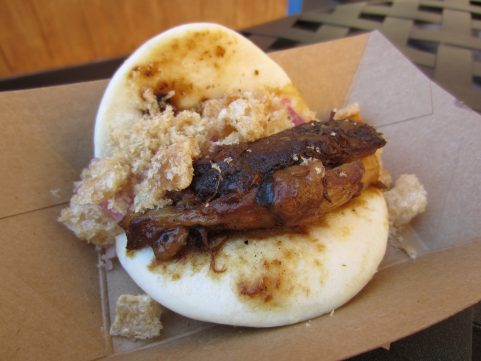 Adobo Pork Bao (Good Fortune's Feast)
This is another winner. The flavor of the pork had a beautiful Asian flair. A combination of tender meat, tangy onion slices, crispy rinds and soft bao (bun) makes for an outstanding dish. It was a clear favorite for my wife and I. In fact, we bought this dish two days in a row!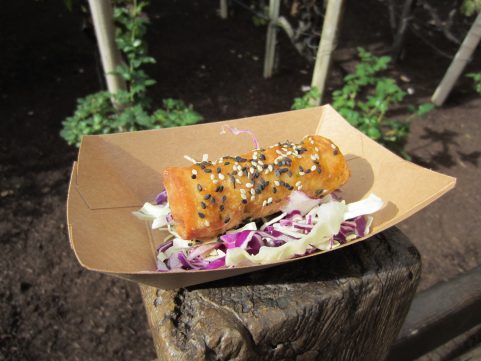 Smoked Duck & Vegetable Spring Roll (Good Fortune's Feast)
Sadly, this was a dud. Although it looks good in the picture, the actual flavor was disappointing. I like smoked duck, especially in Asian cuisine. However, there was hardly any inside the roll. And, even with the sparse amount of meat, I could tell that there was not much smoke flavor and the texture was dry. The cabbage was mushy along with any of the other vegetables that might have been included.  On the exterior, the shell was really tough and chewy. I personally like my spring rolls to have a light, crispy skin. This dish had great potential, but ultimately fell flat in the end.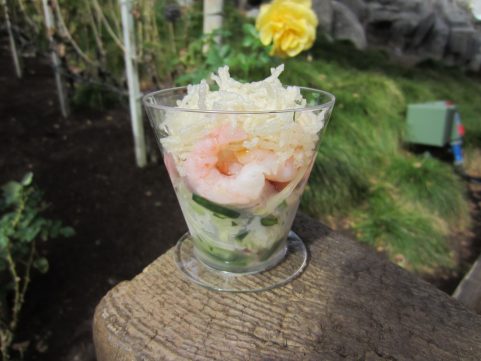 Chilled Papaya Shrimp Salad (Good Fortune's Feast)
If it were summer, this dish would hit it out of the park. But, come on Disney, this is the holiday season! With that said, my wife and I still really enjoyed this salad. It was bright and refreshing. To me, it can be best classified as Thai fusion cuisine. My only criticism is that the shrimp needed to be marinated. The crispy rice noodles on top a offered beautiful textural contrast. While I maintain that this is more appropriate for hotter weather, I do recommend you try it.
Local, Seasonal & International Beers (Brews & Bites)
Besides potato, one of my other favorite foods is beer (I say food because beer is liquid bread ;-). Think not? Read this article: On the origins and relationships between bread and beer). I won't go into the complexities of the beer samples they offered at the Festival of Holidays. However, what I will say is that there is a nice diversity of winter-style brews that will please any beer lover's palate.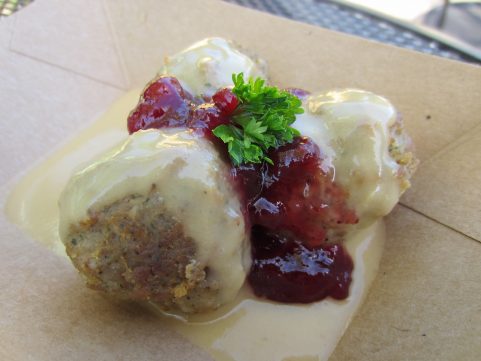 Holiday Swedish Meatballs (Mistletoe Morsels)
This dish was both good and bad. On one hand, the meat was very salty and overpowered the other elements. On the other hand, the texture was really nice and the sweet/tart Lingonberry sauce provided a bit of balance to the salt. The gravy on top was smooth, creamy and flavorful. Overall, I would recommend this if they make some adjustments to the salt level.
Classic Crab Cake (Mistletoe Morsels)
If you enjoy seafood like I do, then this dish is for you. Although not the best of the bunch, it was enough to satisfy my cravings. There was a nice meaty crab flavor with a crispy exterior. On top was supposed to be a lemon tartar sauce, but tasted more like a spicy aioli. Nevertheless, this dish is nothing special and can be had at most seafood restaurants. As such, I would only recommend it if you had a strong hankering for seafood.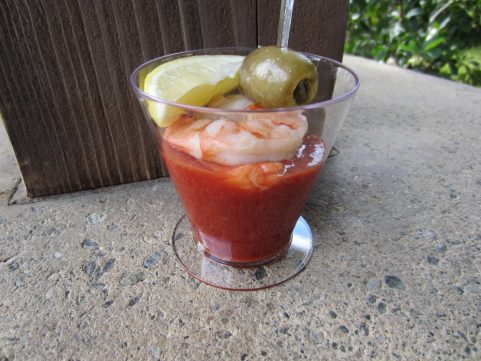 Shrimp Cocktail Martini (Mistletoe Morsels)
Don't let the name fool you. There is no booze in this offering. It is a standard seafood cocktail containing two pieces of shrimp with a spicy sauce and an olive served in a plastic "martini" cup. Everything about this dish was blasé, except the high price. Save your money folks.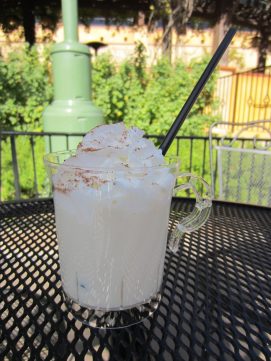 Holiday Eggnog Cocktail (Mistletoe Morsels)
Want to get in the holiday spirit quickly? Try this humdinger. One drink will warm your spirits and have you whistling the song from "Rudolph the Red-Nosed Reindeer". It is very boozy, but does have a nice creamy mouth feel. If you enjoy strong drinks, then this is definitely for you.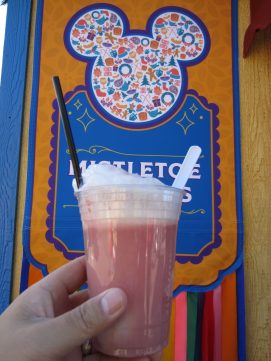 Merry Berry Sherbet Punch (Mistletoe Morsels)
Basically a mix of 7up and berry sherbet. Like a minor traffic accident, just move along. There's nothing to see (or taste) here.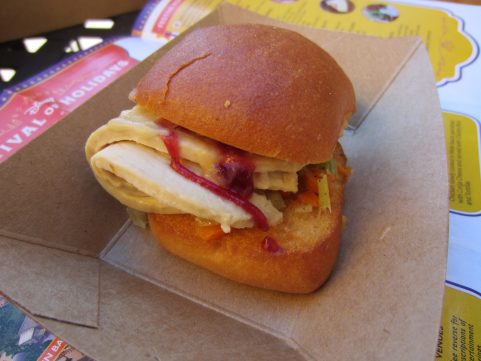 Roasted Turkey Slider (Winter Sliderland)
If you've ever been to Downtown Disneyland, you know about Earl of Sandwich. One of their most famous sandwiches is the Holiday Turkey. This Roasted Turkey Slider is similar in nature, but on a smaller scale and not quite as messy. For the money, I would say you should probably skip this one.  Head over to Earl of Sandwich instead and get the full-sized version.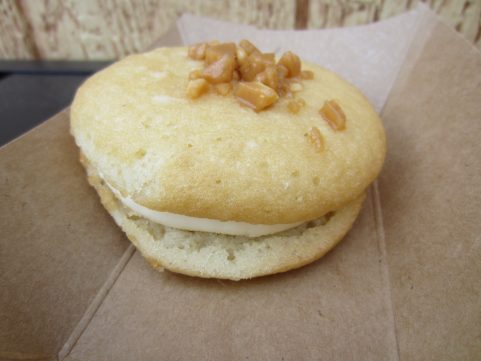 Praline & Bourbon Whoopie Pie (Winter Sliderland)
This dish was recommended to us by a cast member working at the Winter Sliderland booth. Unfortunately, her taste buds did not align with ours. First off, it was way too sweet. It needed more praline and bourbon flavoring. Secondly, the texture of the cake was extremely soft and not spongy. Lastly, the pralines failed to offer any textural contrast or flavor component. You are better off going to the Jolly Holiday Bakery Café inside Disneyland.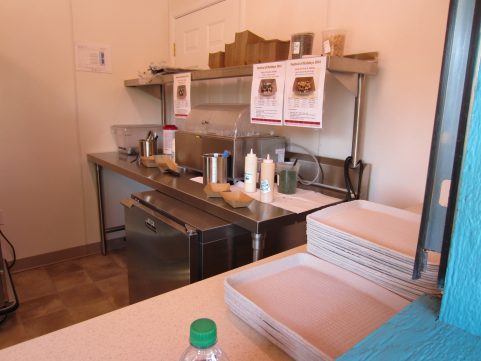 Guava Agua Fresca (Fiesta en Familia)
This was a drink my wife enjoyed a lot. She does not drink alcoholic beverages, so this perfect for her. It was not too sweet and had a delightful tropical flavor that screamed guava.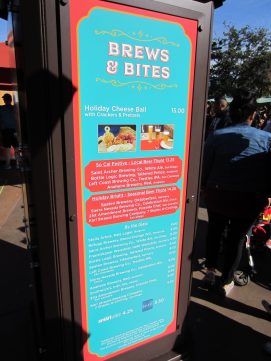 My wife and I had a really great time with the variety of international foods and drinks. It was like a miniature version of Walt Disney World's Epcot park.  We look forward to more of these events in the future and recommend everyone try it at least once.