Podcast: Play in new window | Download | Embed
Subscribe: RSS
In this episode the gang answers an email that asks what are the best off the beaten path spots at Disneyland. We also talk about Hidden Mickey books and pin trading while being distracted by the final game of the Cubs vs. Indians World Series.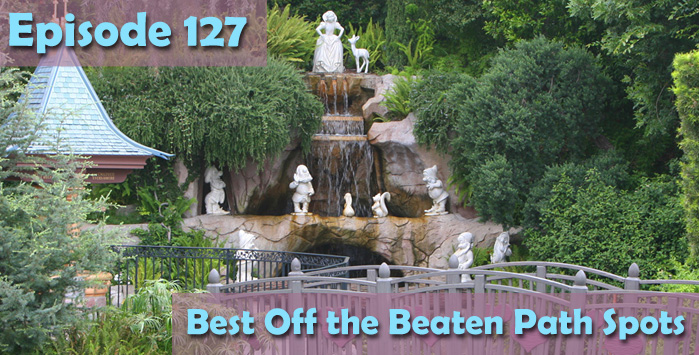 News
Paint the Night Returns Nov 18th
It appears as if Paint the Night will run nightly starting on Nov. 18, 2016, and go through Nov. 27, 2016. Each night, there will be two runs with one at 6:30 p.m. and another at 10:30 p.m.
After those dates, there is a short break and then, there are more times for Paint the Night:
Friday, Dec. 2, 2016: 6:30 p.m. and 10:30 p.m.
Saturday, Dec. 3, 2016: 10:45 p.m.
Sunday, Dec. 3, 2016: 10:45 p.m.
As for the rest of December after Dec. 3, there are no times yet listed.
Holiday Time at the Disneyland Resort Guided Tour
Disneyland debuts donuts
Disneyland has doughnuts!!!!!! Brand new! #donuts #disneyland pic.twitter.com/cBWiUyy3sg

— Danielle Ernest (@DeeMagicGurl) October 22, 2016
Main Topic
What are the best, "Off the Beaten Path" spots and lesser known areas at Disneyland?
Hidden Mickeys – http://findingmickey.squarespace.com/
Twitter
Daniel @disgeekpodcast 
Tommy @tommypix
Chris @dizchris
Jes @jesjones1976
Email us at- disgeekpodcast@gmail.com
Call us at 661 450-8290.
If you enjoy the show take a minute and Review us in itunes.
Download Sticher Radio. Use Promo Code: DISGEEK
Check Out Touring Plans.com! Use code DISGEEK for 20% a one year subscription.
Visit our friends at: