Podcast: Play in new window | Download | Embed
Subscribe: RSS
In this episode we are grabbing our smartphone and playing Pokémon Go at Disneyland! Looking for the best tips and tricks to play this game? Then look no farther! This and the latest news to come out of the Disneyland Resort.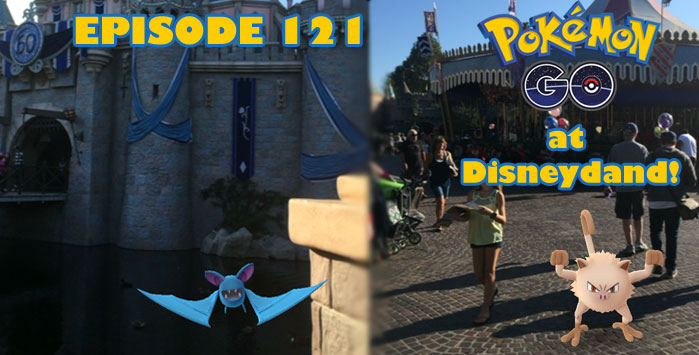 Note: We recorded this episode before the news of Guardians of the Galaxy – Breakout. We will discuss this in detail next episode.
NEWS
Big thanks to Jason for Donating a mic for Jess
Disneyland Guests Get a Peek at Star Wars Land
MAIN TOPIC
Pokémon Go at Disneyland!
What is it? – alternate reality game that allows you to become a part of the Pokémon world. Catch Pokémon in the real world.
General Strategies
Walk around – don't stay in one place
Visit heavily populated areas
Drop lures
Strategies for Disneyland
Visit different areas of the park – different Pokémon near water for example
Bring extra chargers with you – Disneyland kills your battery and the game kills it fast
Talk with fellow guests playing the game – many will tell you what they find and where
Get there fast! Pokémon leave quickly
When you see a large group of people just standing in an area, that is a good sign that a rare Pokémon is in the area!
Use your eggs frequently
Embrace the game – play with your family
Twitter
Daniel @disgeekpodcast 
Tommy @tommypix
Chris @dizchris
Jes @jesjones1976
Email us at- disgeekpodcast@gmail.com
Call us at 661 450-8290.
If you enjoy the show take a minute and Review us in itunes.
Download Sticher Radio. Use Promo Code: DISGEEK
Check Out Touring Plans.com! Use code DISGEEK for 20% a one year subscription.
Visit our friends at: