Podcast: Play in new window | Download | Embed
Subscribe: RSS
In this episode the DisGeek crew layout their favorite Disneyland Hacks. These little tips and tricks will make your stay better and save you a little money. We also talk about that 60th anniversary fireworks rumor and much more.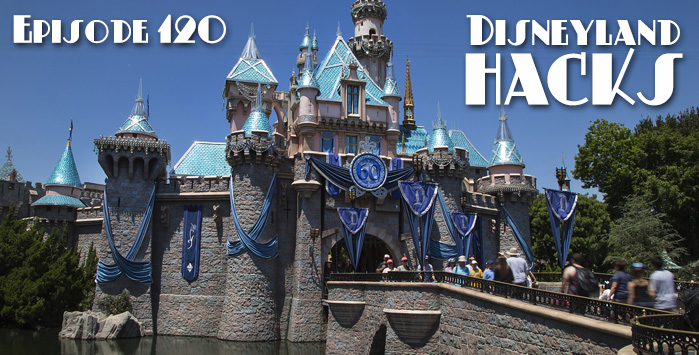 News
New rumor regarding 60th anniversary fireworks going away
Disney offering a 'Frozen Live at the Hyperion' Pre-Show packages.
Disney plans to add luxury hotel at Disneyland Resort
Main Topic
Our favorite Disneyland Hacks.
Buy disney gift cards at Target using the target Red Card. Save 5%! 5% doesn't sound link much, but those gift cards are valid all over the place. Every little bit helps.
When you go to Indiana Jones, Haunted Mansion, or Pirates put your phone on Airplane mode. Those attractions go underground and your battery will drain faster looking for a signal.
Check all the wait times via the info boots or the Disneyland app – The app shows not only the wait time, but the fastpass return time as well.
Get free water – At a sit down restaurant. Like Pizza Port or Rancho. Grab a big cup and fill it with water at the soda dispenser. If you tell the cast member at the register it is water they will let your through. If you go to counter service and ask for a cup of ice water, they will give it to you, but it's in a really small cups. On super hot days they actually have ice water ready for you. Also there are filtered water stations throughout the park if you want to fill out your water bottle (Pizza Port, Mint Julep bar and Rancho).
Haunted Mansion – Be the first out of the Stretching room. Look for the wall with a slight gap, that's the elevator doors.
2nd Rope Drop at fantasyland. – Stand in front of King Arthur Carrousel during the fireworks. Soon as it is over they drop that rope and boom, instant access to fantasyland attractions (peter pan, mr. toad, etc.)
Corn Dogs – You can get a corndog at the Stage Door Cafe, It's the same as the Red Wagon and a little bit cheaper. If you get it ala carte it's 5.99 (instead of 8.75 at the wagon)
Dole Whip line inside the Enchanted Tiki Room is ALWAYS much shorter.
Park on Berry Ave. – Closest neighborhood parking about 10 min walk or there is a shuttle at the Hotel Menage across the street.

Meet and greet with The DisGeek Podcast and the Earvengers at Walt Disney World.

Located at the Ale & Compass Lounge on Aug 27th at 6PM. Located at the Yacht Club Resort.

Twitter

Daniel @disgeekpodcast 
Tommy @tommypix
Chris @dizchris
Jes @jesjones1976

Email us at- disgeekpodcast@gmail.com

Call us at 661 450-8290.

If you enjoy the show take a minute and Review us in itunes.

Download Sticher Radio. Use Promo Code: DISGEEK

Check Out Touring Plans.com! Use code DISGEEK for 20% a one year subscription.

Visit our friends at: