Podcast: Play in new window | Download | Embed
Subscribe: RSS
In this episode talk Food and Wine Festival at Disney California Adventure. We go into detail, and guide you through the different food booths and what they have to offer as well as review some of the items we tried.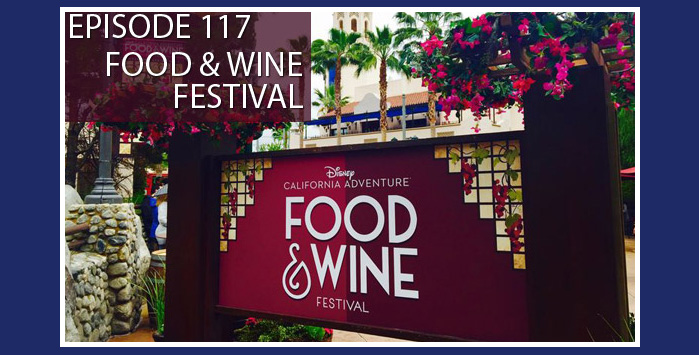 photo credit – Mouseplanet
News
Phones are the new Magic Bands
Marvel Characters Change Meet Locations
Zootopia Characters now Appearing in DCA
Wizarding World of Harry Potter is officially open
Main Topic
Guide to Food and Wine
Festival Marketplace – Located in the parade route between Carthay Circle and Paradise Pier. The setup is more like what they do in Epcot rather what they have done in the past in Anaheim.
Each Booth includes a nice seating area and carries it's own theme with unique food and drink options.
Booths and signature item include:
LAstyle – Chilled Ahi Poke – $7.00
The Vineyard – Assorted Wines
Wine Country – Zinfandel-Braised Wagyu Beef $8.00
¡Viva Fresca! – Fried Shrimp Taco – $6.50
Gold Rush – Triple Cheese Mac with Smoked Chicken – $6.00
The Brewhouse – Assorted Beer
The Farm – Grilled Beef Tenderloin Slider – $7.75
By The Bay – White Cheddar Ale & Bacon Soup – $5.50
Some of the quick service restaurants also have new menu items for Food and Wine including Pacific Wharf Cafe, Cocina Cucamonga, Lucky Fortune Cookery, and Wine Country Trattoria. I think Carthay Circle has something going on as well. Like an added item on the menu. But what it is just depends on when you go.

Celebrity Kitchen – Hard ticket events located inside Stage 17. Prices start at $99 and there is a special AP VIP Experience that includes autographs, priority seating, and a gift. Those are $149 plus tax. Schedule and reservations can be made at the Disneyland Website.
Wine, Beer and Spirit seminars – Held at the Sonoma Terrace. Limited to 75 people per class. Cost $15.00. Schedule and reservations can be made at the Disneyland Website.
Culinary Demonstrations – Located at the Backlot Stage in Hollywood Land. Free, Standing room only and no samples or tastings.
Lifestyle Seminars – Located at the Lifestyle Stage (Formally Mad T Party stage) – Free, Standing room only.
Festival Artists – Disney will feature more than a dozen artists during the Food & Wine Festival, with several debuting new product commissioned just for this event. You can meet the artists and purchase their creations during scheduled events each weekend of the Festival.
Video
In addition to these product releases, Disney is also featuring some of these artists on stage during the Food & Wine Festival. Visitors can watch the artists create new artwork at the Lifestyle Stage in Hollywood Land then meet them in person at Off the Page later in the day.
Mouseplanet has a schedule of who will be appearing at all of these events. Mouseplanet did a really good job of putting this all together.
One thing that is being offered to annual Passholders is a special Tasting Passport and a lounge to hang out in. This pass costs $39 bucks (down from $45) and gives you 6 tasting portions from the Festival marketplace booths not including alcohol. If you use it and get 6 of the most expensive items on the menus you have a few bucks. Pretty much every website says it is a rip off. Even after they lowered the price of it.
Twitter
Daniel @disgeekpodcast 
Tommy @tommypix
Chris @dizchris
Jes @jesjones1976
Email us at- disgeekpodcast@gmail.com
Call us at 661 450-8290.
If you enjoy the show take a minute and Review us in itunes.
Visit our friends at: